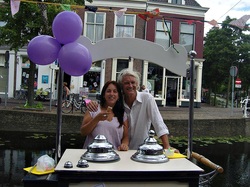 Stef was born and bred in Delft and has lived most of his life here so he has a vast knowledge of this beautiful city and its history and is very happy to give directions and tips were to go, what to see, where to eat. Stef is a sculptor working with stones and offers to our guests in case of interest a workshop in sculpting which usually takes place outside in the nature.
My name is Katerina, I come from the Czech republic and has moved from Britain, where I lived for many years, here to Delft to join Stef in July 2013. Despite being a kindergarten teacher by profession I have been taking care of the Bed and Breakfast business ever since moving to Delft, baking bread, making jams and enjoying the company of people from all over the world.
We are both well traveled and both love discovering new places, cultures, cuisines and meeting new people so having bed and breakfast in our house is a pure joy. Instead of traveling and meeting the world, we open our door to it.


How we take care of the environment in our business:
We are convinced that it is important that we all do as much as we can to look after the environment and be as 'green' as possible, currently we do the following and hope to do even more in the future:
- Toiletries: We know it is fancy to have a tiny individual bottles and soaps to use in the bathroom but they are just not very eco-friendly so instead we use Ecover hand soap and shower gel in their original packaging, allowing our guest to use as much as they would like while eliminating excess packaging.
- Towels: We would like to point out that it is our policy that we change bedding and towels every seven days, unless the guests requests differently.
- Bulbs: We only use low energy bulbs in the whole house.
- Soaps, cleaning products, detergents: are all environmentally friendly
- Using recycled toilet paper
- Recycling plastic bottles, containers and films whenever possible, paper and glass
- Using local produce a much as possible. We bake our own bread and make homemade jams with a very little or no use of sugar, our eggs are free range and organic sourced from a local farm.
- We try to avoid all packaging and plastic bags.

---